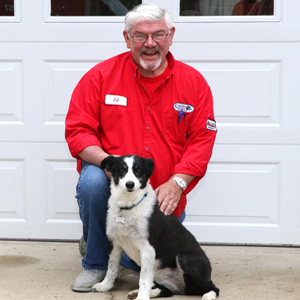 The technicians and staff at Atteberry & Marshall Heating & Air are a dedicated group of individuals, working together as a team to ensure quality work and customer satisfaction.
Starting 2018
Our team is always changing and growing. 2018 will be no exception.
Sara has been with Dad (Ed) and Atteberry and Marshall for over ten years now. And Dad is ready to be retired. Our customers may have noticed Ed has been stepping back not doing as much over the last four years and that is because Sara will be purchasing the business.
Ed's thirty years' experience can never be replaced and his commitment to customer satisfaction. As a team, Atteberry and Marshall will be stepping up to fill the hole he will leave here. But don't worry he will be still here for consult as we need him.
We may hit a few bumps in the road as we make the transition, but for all of our customers we hope the transition is as smooth as possible.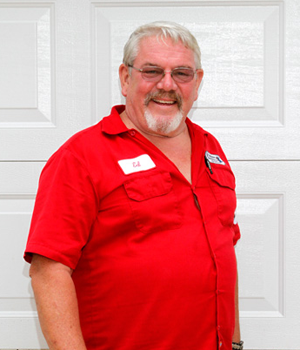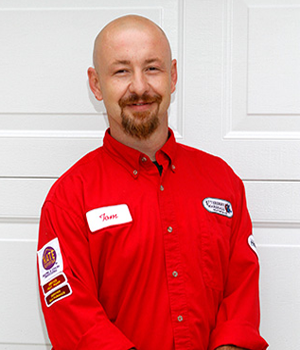 Tom Lane
Lead Service Tech / Sales
Tom is married is married to Jessi for over twenty years with two boys and lives in Toledo. Recently moving to the family farmland he has started raising chickens for their farm fresh eggs. None of the Lane chickens ever end up in a pot of boiling water, as his wife and kids have given them all names and made them part of their family. Tom started with A & M as an installer and worked his way up to his present position. Tom is our Lead Technician and is our Training Coordinator. He has been with A&M since early 2008. He has since absorbed knowledge like a sponge by attending GeoComfort Service and Application School and has completed over 70 hours of E-Learning courses. Tom has also completed his NATE (North America Technician of Excellence) certification with three specialties. Getting your NATE certification is about as good it gets and we are very proud of him. Tom has become a favorite with most customers due to his work ethic and polite nature.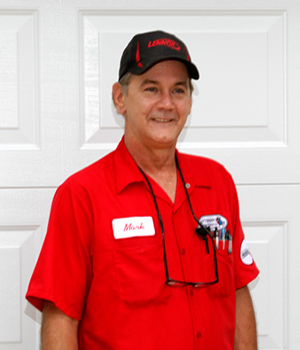 Mark Stabler
Service Tech / Sales
Mark is Mattoon native and lives with his other half Mary Lou. The have two chocolate labs that run their house. They spend lots of their weekends with Lou's kids and grandkids. Don't be surprised if you go by Mark's house on Sunday to find him doing all of his favorite things eating Villa pizza and watching Nascar. He will get out of his PJ's to head to the dirt track every Saturday Night. Mark worked for A & M back in the late 90's and then moved down to Florida. He worked on and off in the HVAC industry while down there doing maintenance for hotel and condo complexes. He then reconnected with Mary Lou and found his way back to Mattoon. He has been with us since 2011. He is EPA certified and is our resident R-22 specialist. He has really done a good job investigating the online HVAC community and brought new ideas to the table that we didn\'t know existed. He also is a qualified Comfort Specialist and can help you with all of your estimates.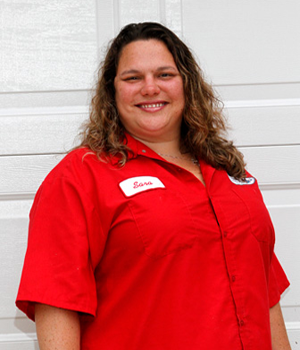 Sara Marshall
Office Manager / Sales / Marketing
Sara is the Boss's daughter. She lives in Allenville with her dog, Lucy. She has been with Atteberry & Marshall now for almost 10 years. Sara held a similar position for a large HVAC firm in Indianapolis and brought those skills home to put them to work in the family business. Our customers' needs and concerns are always first to Sara and that is reflected in the high esteem they have for her.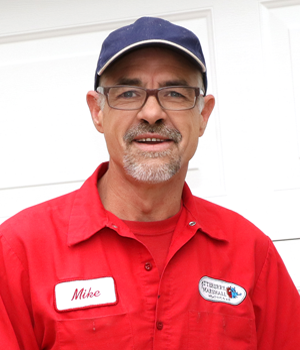 Mike Upton
Lead Installer
Mike is married to Shari with two children and is a Champaign County native. His new pride and joy is Grayson his grandson. He has lived in Mattoon area for the last 15 years. He spends lots of his free time tinkering with things which have led to small appliance repair shop. Mike is a graduate of Lakeland College with his HVAC Certificate and also attended the Geothermal Applied service and installation classes. As well as passing the electrical certification test for the city of Charleston, he has proven to be a real asset at A & M. Mike's Metal work is what garners the most attention here at the shop. His smooth transitions into existing ductwork are things of beauty. It really takes a lot of patience and practice to make the new furnace fit in the old hole. Mike has been with us since 2011.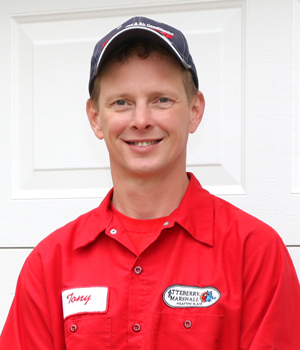 Tony Ayers
Service Technician
Tony Ayers, a Charleston Native, has been married to Dana since 2014 and has two children: Dallas, who proudly serves in the Airforce and Ivy, who attends high school. Tony considers himself an avid sports fan. Unfortunately, this leads to much harassment at the shop during football season, because he is a Cowboys fan. Tony also likes to get to the woods and do some hunting and fishing when time permits.
Tony is our newest service technician. He has been with Atteberry and Marshall since 2016. He came to us as a Lakeland Graduate from their HVAC program. He also had been working with another company for a few years as an installer. He has made a great addition to our team bringing fresh ideas. Our customers have really started to get to know him and like him.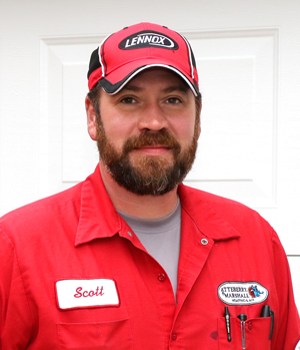 Scott Jones
Master Installer
Scott Jones has been with his girlfriend Baillie for a while and they have been blessed with twins. Leland and Stella have been a double blessing for the entire family in many ways. Scott has two grown children Carter and Cierra and a teenager, Chase. And Carter has given Scott two grandchildren Journee and Bryndall. As you can imagine this keeps Scott very busy. He also volunteers several hours of time with a social club referred to as the HMWHIL. These guys get together for several civic causes including the Polar Plunge for Special Olympics, St. Jude's bags tournament, and a Poker Run for multiple charities every year.
Scott has been with us since 2014 and is our Master Installer. Scott came to us with an HVAC certificate from Lake Land and a strong construction background. Scott is also a graduate of the Build a Tech Program in Dallas, Texas. With his solid background in construction, Scott can transition to any position here at Atteberry and Marshall while specializing as an installer.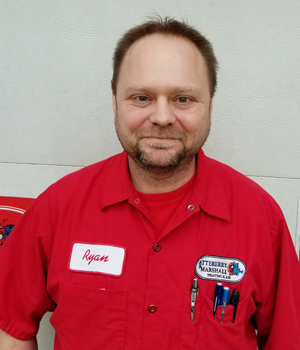 Ryan Cherry
Installer
Ryan Cherry from Shelby County has just joined the team in 2017. He is an avid sports fan with no taste, as he routes for the Denver Broncos. He has been married to his wife, Donna since 2002. They have been blessed with teenage twins Madison and Dakota. They have two grown children as well, Nick and Tyler. The twins keep them in busy in sports playing traveling softball and basketball at the high school. Ryan has volunteered as a coach for their softball team and enjoys camping when they can get away.
Ryan has several years in the HVAC business, even running his own business for a while. Ryan has joined our team as an installer but will be filling in as a service tech when necessary. Ryan's sense of humor keeps us rolling most mornings and we are glad to have him.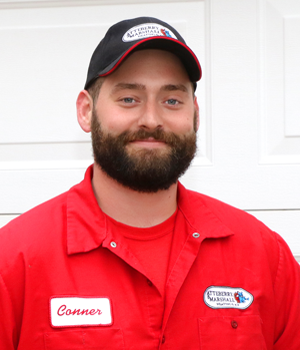 Conner Sanders
Installer
Conner Sanders from Moultrie County has been added to the install team in 2016. Recently married to Schuyler they have been trying to get their life started. They have two children Jude and Raylen. Starting just as a canine foster family they have now added Gus as a permanent member of their family. Conner comes from a large family and is a busy son, uncle, and brother to all of them. Although he enjoys his HVAC career his true passion is in music and movies. He keeps the guys hoping during the day with playing all kinds of different music.
Conner didn't have any HVAC experience when he came here. He has been a quick learner and our strong back around here. He passed his EPA test and his electrical test in Charleston with flying colors to be a valued member of the Atteberry & Marshall team.

Dolly Cook
Book Keeper
Dolly (Billy) is married to Rick Cook for over 30 years in the rural area of Gays. She has been with us in the office since 2014, primarily doing anything she can to stay busy all the time. Often Ed and Sara have to remind her she is not everyone's mother, but her heart is in a good place. She spends her free time with her three Rottweilers, Ellie, Lilly, Duke, and her three horses. She hopes to start breeding them soon. She swears she doesn't spoil the dogs but feeds them most of the time from a spoon with boiled chicken breast mixed in their food. But they are her babies and they know it. Dolly can help all of our customers with her sunshine and positivity.